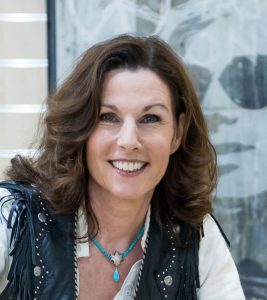 Under the theme of "ART 'N' SHOW" artists SYLVIA SCHRAMM from Hamburg first showed her works in the Fabrik der Künste in 2015. Now, after three successful years, she exhibits her newest series "ART 'N' SHOW II" here.
Sylvia Schramm started drawing and being interested in art at a young age. She worked as a model, studied fashion design, and traveled all over the world as a designer and a buying agent for years. Even after the birth of her two children, she continued her creative work; founding her own children's furniture company, exhibiting her painting and illustrations, and learning multiple programs to then turn her dream of her own fashion collection into reality.
But fashion decays – art stays and as an art creator she is fascinated by the bridge between the two. Inspired by shapes, beauty, and the culture of fashion, Sylvia Schramm now uses her large works of metal to turn the temporary into something persistent and christens it "ART 'N' SHOW II." Fashions shows are what she herself has experienced front and back stage. The most thrilling moment for both designer and audience is of great interest to the artist and inspires her to shift the context of the scenes to a different level. This also led the artist to create a new series of four "Cutouts" made from aluminium, which turn her motifs three-dimensional.
Schramm's work is all about colors and shapes, but it also looks at fashion and its "excrescents" critically, just like Honoré Balzac: "A Person who sees only fashion in fashion is a fool." Every single piece of work hides an association or a story that will make you think. With her many depictions of women, she creates a female image of strength and character, from female elegance to "Girl Power."
Further, she created thrilling works for the "Legendary Cycle Hamburg" with the same technique, which deals with the connections between art and legends – "ART 'N' LEGENDS." These works can be found as a permanent exhibition in the INDIAN showroom in Hamburg.
Hamburg inspired the "real Hamburger" to an impressive series with the theme of "ART AND THE CITY". Hamburg is the center of abundant world history – fully in the spirit of her husband's grandfather, the historian Percy Ernst Schramm (1894-1970) who wrote the book "Hamburg, Deutschland und die Welt" among many others.
The artist's artistic technique is digital painting, which she turned into something unique due to her knowledge from traditional painting. Here, the motif is printed onto a metal plate standing in for the "canvas" through a special procedure. Created is a fascinating play between gloss and matt, which characterizes her impressive, unique works and is then framed in iron. Her knowledge of fabrics and shapes in fashion is detectable in every one of her works.
Sylvia Schramm has exhibited her works in Hamburg, Amsterdam, and Berlin and is represented on Mallorca.
Portrait SylviaSchramm 2018
A film by Juliane Clüsener-Godt
Created at the Academy Mode & Design Hamburg