2022: Exhibition at the Winebank
Photos by https://www.van-kann.de/
---
2021: Exhibition at the Winebank
---
2021: Hamburger Kunstgalerie, Gänsemarkt Passage
---
Exhibition at the Habour City Hamburg
08/02/2020 Vernissage, 09/02 – 29/02/2020 exhibition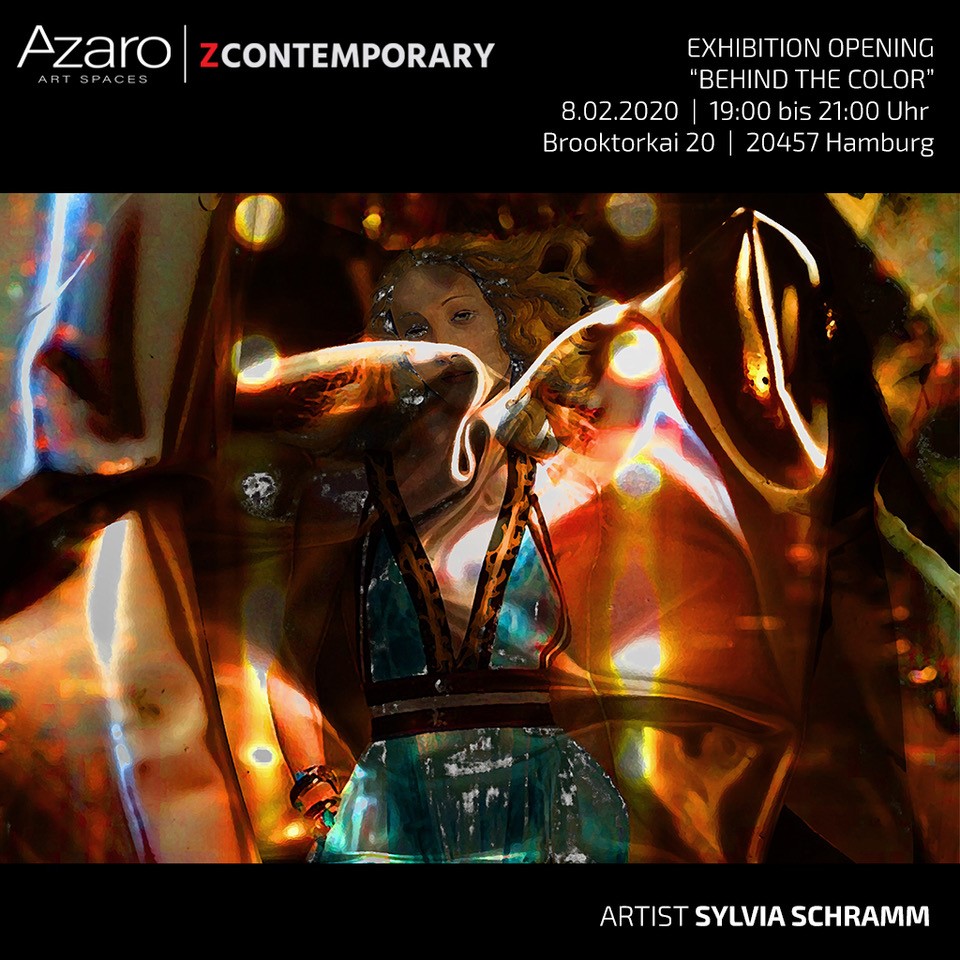 ---
AAF 2019 FAIR HAMBURG
Film from ARTIST TV, please watch the first Szene and 1:31:44 till 1:35:11
AAF Affordable Art Fair Hamburg 2019
Art fair, fairground Hamburg, gallery Marion Stoeter, 13/11 – 17/11/2019, 13/11 – 17/11/2019
---
EXHIBITION IN BERLIN
EXHIBITION until 08/05/2019, Achtzig-Galerie, Hagenauer Str. 7, 10435 Berlin, Prentzlauer Berg, Germany
---
2018/11/ 9.,14.-18.
Sylvia Schramm with Gallery Marion Stoeter, PREVIEW + Affordable Art Fair Hamburg (AAF)
---
01/07/2018
Article in "OPIUM" the new Magazine for Hamburg
---
21/05/2018
New Opening of 2nd Gallery ARTE CASA/ Mallorca
---
21/04/2018: ART 'N' SHOW II
The film for Vernissage ART 'N' SHOW at the Fabrik der Künste, Hamburg, by Josephine Carstens
---
21/04/2018
Vernissage ART 'N' SHOW II, Fabrik der Künste, Hamburg
Photos: Martina van Kann
---
01/11 – 05/11/2017
AFFORDABLE ART FAIR Galerie Marion Stöter, AMSTERDAM
---
09/15 – 17/2017
Artfair BERLINER LISTE with Galerie Marion Stöter, Berlin Ostbahnhof
---
21/11/2016
09/11 – 13/11/2016 Video AFFORDABLE ART FAIR Hamburg with Galerie Marion Stoeter
14/11/2016
09/11 – 13/11/2016 AFFORDABLE ART FAIR Hamburg with Galerie Marion Stoeter
---
25/10/2016
EXHIBITION on Mallorca, ARTE CASA Gallery
---
12/09/2016
VERNISSAGE: HAMBURG – AN HOMMAGE
---
16/07/2016
VERNISSAGE ART 'N' LEGEND + Shopopening of LEGENDARY MOTORCYCLES HAMBURG
---
19/03 – 19/05/2016 Exhibition at "Geliebte Möbel" in Köln with the artist Rupprecht Matthies

---
31/01/2016
Glamorous event!
The ball of the assosiation of HAMBURGER FAMILIENUNTERNEHMER at the Hotel "Vier Jahreszeiten", Hamburg.
Pricegiving ceremony of the  1. Price:
PARADISE GLAMOUR, 145 x 105 cm, Mixed Media on Metall, aluminium framing, 2014
With Annegret Weitkämper-Krug (ASU e.V.) a.o.
---
19/11 + 20/11/2015
Impressions from the AAF / Affordable Art Fair, Messehallen A3/ Stand F3, Galerie Marion Stoeter!
---
25th April 2015
Vernissage ART 'N' SHOW
Fabrik der Künste, Hamburg